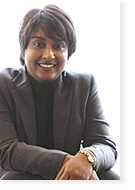 Renuka (Advisor) brings a broad range of skill sets and experience to Mindvault after several years in the ICT industry. She began her career as an Advocate & Solicitor at Skrine & Co with special focus in IT and Intellectual Property law.
She then left legal practice to join the regional team at Sema Asia Pacific. At Sema, Renuka was actively involved in negotiating IT and Telco projects and outsourcing contracts across Asia. As an in-house advisor, Renuka's role included evaluation of Project Risks and recommending appropriate mitigation measures. She further spearheaded an organization-wide awareness campaign at senior and middle management levels to raise the understanding and appreciation of Intellectual Asset management and its value to an enterprise.
As the dot-com era took Malaysia by storm, Renuka was invited to join a New Zealand start-up company as part of their Core Management Team. This experience saw Renuka devising commercial and business strategies, conducting business development with strategic partners and structuring intra-company IP. Thereafter she joined Trax Associates, a company set up by a former Ernst & Young International partner, to develop, test and implement a proprietary branding solution. At Trax, Renuka was primarily involved in managing the R&D process of the Trax Solution.
Renuka is an elected Council Member of TeAM where she is the Chairperson of the University Relations Committee. At TeAM, Renuka has been actively involved in government lobbying and has presented policy recommendations to the Hon. Prime Minister at the 2005 Budget Dialogue. She was also part of the advisory committee that conceptualised and developed the blue-print for the Cradle Investment Program. As part of on-going programs at TeAM, Renuka spearheaded the running of "TeAM Clinics" which has been successfully run with the Cradle Investment Program and MDC's Technopreneur Development Flagship.
Renuka has a Masters Degree in Intellectual Property (LL.M) from King's College London and is a Barrister-at-law, Lincoln's Inn, London.